One Big Family: One of the things that draws me into the world of motorcycles is the community that exists. This reality was showcased throughout my summer road trip 2018. And on this breakdown ordeal, I saw the moto family rally.
In my earlier posts Good People: Part 1 | Good People: Part 2 | and Good People: Part 3 | I shared my quandary of having my motorcycle break down in Saco, Montana. Consequently, necessity required an 837 mile detour.
Please don't feel bad for me. Detours in life is what adds color to our "road trips." Wouldn't you agree?
Sturgis, South Dakota
Sturgis, South Dakota was ALIVE.
As we rolled into town, vendors were already unloading their wares along the streets and parking lots; everyone preparing for the mass of bike riders about to pounce on this small, mountain-nestled town. The smell of money was in the air. The atmosphere buzzed with excitement.
The team at Indian Motorcycles Sturgis were generous in getting my bike into their shop. Great customer service is what distinguishes the winners from the pack.
It's no wonder Indian Motorcycles is gobbling up the hearts of motorcycle riders worldwide. The group at Sturgis reinforced their growing Brand.
Good News, Bad News
Good News: Vern and the Indian Motorcycle Sturgis team affirmed that my rear wheel bearing was trashed. Bad News: they couldn't remove it. The heat of the breakdown caused the bearings to adhere to the wheel.
There was a "Hill Billy" solution that Brian suggested that they could try but the Indian personnel were a bit uncomfortable with the idea.
There is a reason BK is a world-class bike builder. He is not afraid to make creative, out-of-the-box, risk taking "hill Billy" moves to attempt some mechanical magic.
With the clock ticking into their Friday closing time, Brian called an audible.
Meet Jason Mook
Jason is the creative genius behind Deadwood Custom Cycles. Not surprisingly, he too is a Hamster. As a custom fabricator of some of the coolest bikes on the planet, Jason fired up his welding torch and after some trouble-shooting brainstorming, he immediately went to work.
A Kid in the Candy Shop
While Jason was working, I was playing. Jason's backroom work space can be likened to a motorcycle museum. Every imaginable shape of custom chopper is displayed in every nook and cranny.
Some of the bikes represent projects long completed.
Others are still in fresh form.
Coupled with Historic landmark brick walls and wood floors, Jason's office was more like a motorcycle playground to me. It was something special to experience.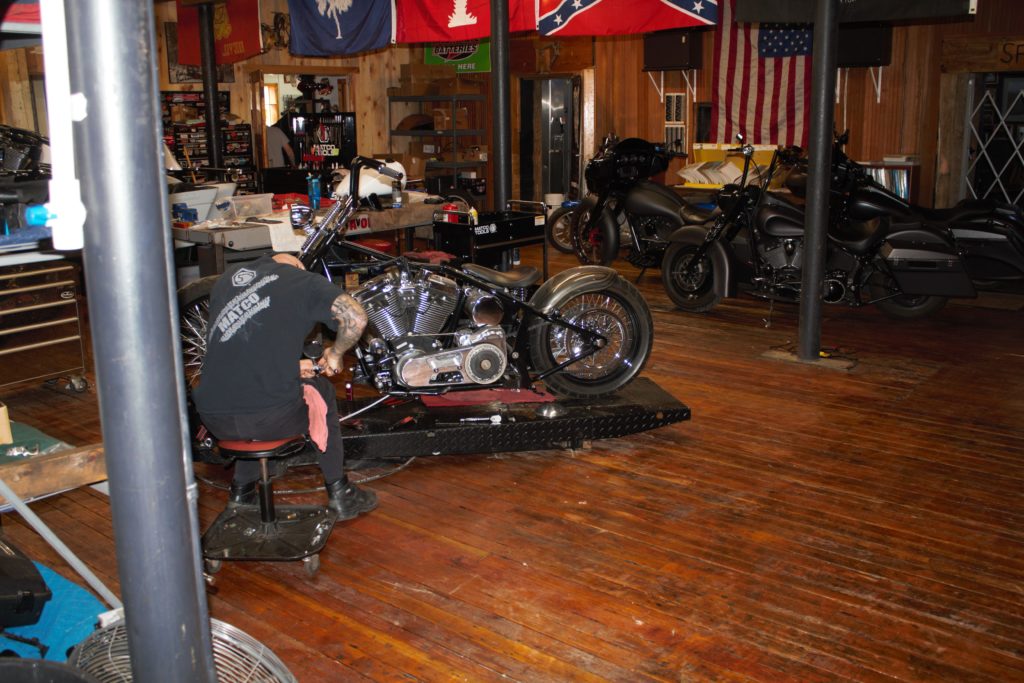 Twenty minutes later, OUR seized wheel bearing was SET FREE.
Can you say "Good People?"
And then…as if Jason hadn't already done enough, he led us to his "front room" and tossed two totally rad Deadwood Custom Cycle T-shirts our way.
Friends, the next time YOU are in Deadwood, South Dakota please be sure to stop in and check out Jason's shop. And if you are really lucky, Jason just might give you a peak into his personal "museum."
One Final Stop
As a result of Jason welding, custom building artistry – combined with the Indian Motorcycle crew wrenching on my bike – all systems were back on track and within the hour, I was loaded up and rolling out into my next adventure.
One Final THANK YOU
To ALL of you who played a role in my motorcycle breakdown and recovery adventure: THANK YOU, THANK YOU, THANK YOU! I pray that God will pour out His generosity on EACH of you as a result of the good will you shared with me.