As a motorcyclist, breakdowns are NOT what you want to experience. This is especially true when one is in the middle of a twenty-five day road trip, far away from home.
I suppose if one is GOING to experience a mechanical breakdown, Saco, Montana is the place to do it. Its people are what you would expect from a Midwest community: authentic, friendly, and willing to give you the shirt off their back.
In a previous post, I referenced my ill-fortune of hearing a loud, uncomfortable grinding noise emanating from the rear portion of my Victory Cross Country Tour motorcycle. Noise can travel, but the feeling of riding on ice from my back tire seemed to indicate a problem in the rear portion of my bike.
Receiving some helpful advice from a few of the Saco men that I met in town at Pips Diner, I mounted my ride and slowly headed back in the direction I had just traveled. My destination: Saco Dehy. My contact: Tom.
Saco Dehy
Saco Dehy is NOT what I expected. Full disclosure: I was looking for more of a gas station kind of venue. From the highway upon which I rode, the campus looked to be just another farm that littered the beautiful Montana landscape. But as most of us know, looks can be deceiving.
Saco Dehy yardThe locals call Saco Dehy, Inc. their "Walmart." It offers a scale for weighing trucks and loads; its hardware store sells everything you need from PVC pipes for your lawn, handles for your kitchen cabinets, and electronic gadgetry for your iPhone. Beatrice helps run the joint and like every other Saco person I met, she was friendly and helpful.
Need grain to feed your livestock or the agricultural equipment to do the job? Saco Dehy has it. How about an automotive garage complete with a welding fabricator on site? Yep. Look no further.
One might even say they have a free Uber service. Earl and Hugh swung by the plant just to offer me a ride to Glasco, a town 42 miles away, so I could secure a pick-up to rent. Can you say "wow?!"
The Boys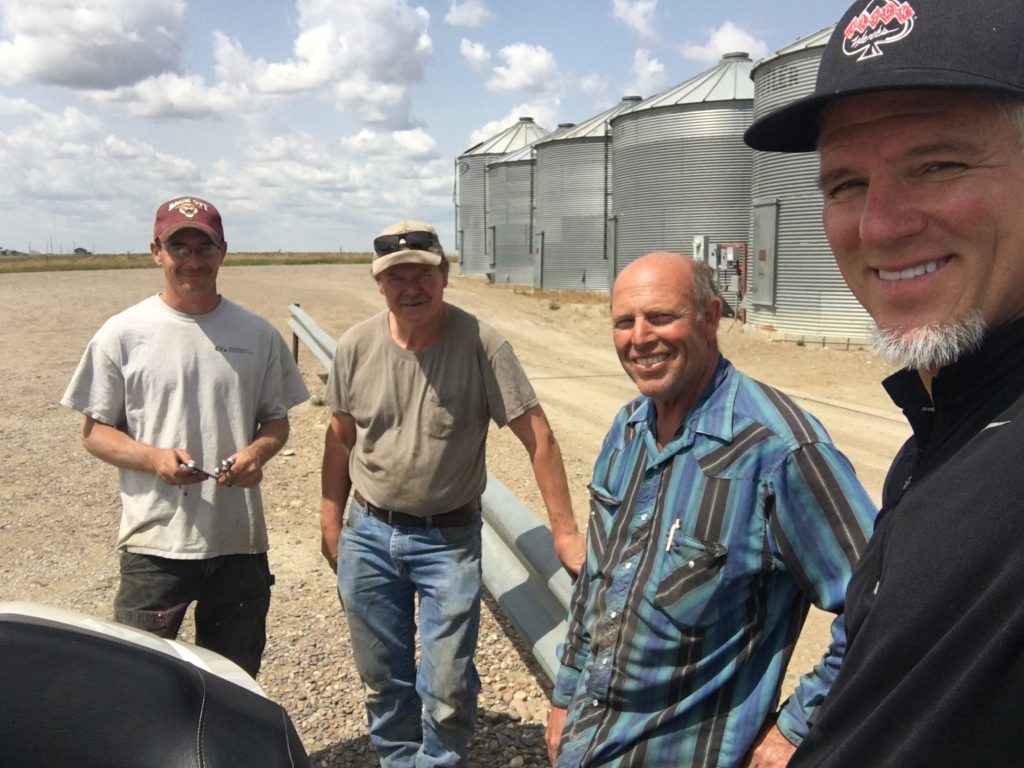 Tom, Donnie, and Donnie were the first three men I met. From the get-go, it was apparent that each knew machinery and were familiar with the mechanics of a motorcycle.
Donnie, pictured on the far right, seemed to have the most experience with motorcycles. In short time, both he and Tom (pictured on the far left) were laying in the Saco Dehy gravel doing some serious trouble-shooting. Having grown up in a rural setting and around the farm for the first eighteen years of my life, their "get your hands dirty" behavior illustrated to me that these men were the real deal.
I felt hopeful. These Saco folk were AMAZING. I knew immediately that if I was going to have any hope of getting back on the road, my chances were strong with Tom, Donnie, and Donnie in the mix.
Good News, Bad News
Three hours later and after multiple departures with quick returns, Tom and I arrived at the conclusion that we were going to have to change our strategy. I won't lie, it feels a little weird having a "guy" ride on the back of my motorcycle. It feels far more natural having my wife or daughter on the back. But then again, desperate times demand desperate measures.
Tom was low-key when I asked him if he'd take a ride on the back of my bike. "I've done it before," he said in an unenthusiastic tone.
At least the feeling was mutual.
The answer we were looking for was suddenly showcased. With the addition of Tom's weight and eagle-eye expertise, the problem was quickly identified: the rear wheel bearing was shot.
To drive the bike any further could be catastrophic.
Saco Dehy played their hand. The motorcycle part I needed to repair my bike was going to have to be provided by another vender in another State. Which leads me to Part 3 of this saga.
Thank you, Thank you, Thank you
As I end this post, I want to shout it from the rooftop how grateful I feel for the men and women of Saco, Montana. Based upon my experience, you made God proud, America proud, your Community proud, and your Momma proud.
Well done Saco friends, well done. You, without question, are Good People.