Have you ever heard the sound of metal scratching upon metal while riding a speeding bullet? Take my word for it, that is NOT a sound you want to hear 2,900 miles into your 6,000-mile summer motorcycle road trip.
My morning started out as usual: 5 AM wake-up, shower, dress, Bible reading, zip fizz beverage, pack the bike, leather up, and roll out. The sun was bright. The road was dry. All was good. 125 miles down the road my smooth ride was suddenly interrupted.
THIS sounded BAD. In addition to the sporadic grinding noise that captured my attention, my back tire suddenly felt like it was skating on ice. I had experienced something similar a few years earlier on a different bike. Wisdom prompted me to pull-over as soon as safely possible to survey the damage.
I needed help.
Fortunate for me, I didn't have far to go. Saco was only 5 miles up the road.
Saco, Montana
Saco, Montana is a small rural town strategically located along Highway 2; about 60 miles south of the Canada border as the crow flies. Downtown features a myriad of store fronts, including a grocery store, saloon, café, and motel. The neighborhood ambiance reminded me a little bit of an old-town western.
Richie was the first Saco resident I had the privilege of meeting. I happened to catch him as he was leaving the grocery store. In his hand he carried a small box of donuts: Maple bars. My favorite.
I could tell from the get-go that Richie was a class act. He was kind and inquisitive; two characteristics I found to be in abundance among the hard-working Saco folk.
After a brief conversation about my mechanical quandary, Richie immediately led me back into the grocery store, from which he had just departed, and with the assistance of the cashier, located a phone number of a Polaris service provider that was located in the town of Glasgow; 42 miles away.
This was old-school help.
The phone directory they utilized was comprised of paper. Who knew that anything so hands-on still existed in this digital age?
A phone call was made.
The news we received was NOT good.
The Polaris Lead informed me that he was not equipped to help me. I was told to find another option.
Richie suggested that I consider driving up the road, in the direction I had come, and seek help from Saco Dehy. I didn't fully comprehend what "Saco Dehy" was. In short time, I would soon find out.
Country Living 101
For those familiar with country living, if a person is looking for solid intel, the place to scout out is the local diner. In addition to securing a piece of homemade pie, the eatery is customarily the place where locals go to share the latest gossip, talk about the weather, and pontificate national politics.
I was in luck. Saco had such a venue.
The UTV parked out front served as my first clue that the answers I was seeking, was likely sitting inside. The 4-wheeler announced louder than an LED billboard…that one of the locals was in town; likely grabbing a slow bite and a hot cup of coffee.
The keys in the ignition and shotgun on the front seat reinforced the truth that I was among Good People. Having grown up on the farmlands of Kansas and South Dakota, I immediately felt at home.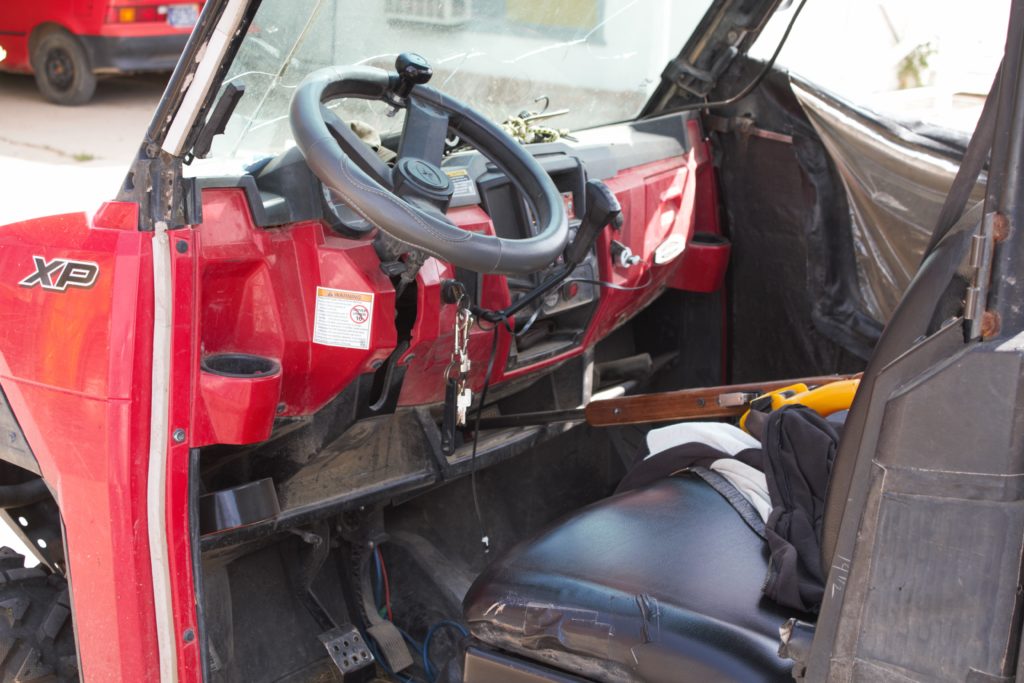 Pip's Diner
Pip's Diner is your classic, small town café. It features a soda fountain with several stools, seven small tables with a chair on each side, and a kitchen with a hot grill in the back. A pair of swinging saloon doors separates the kitchen from the eating area. The vibe is friendly. Several patrons were engaged in conversation. A few young children were playing a table game in the corner.
As I sat down, I was quickly greeted by a young woman. She, along with the woman working the grill (the café owner) were quick to say "hello" and serve me. Before I was able to remove my leather jacket, a cold, refreshing Pepsi was at my table.
Saco's hometown hospitality was on display and was shining bright.
I noticed that at the back of the room, sat a couple of men. One of them was likely connected to the UTV parked out front. After taking a couple of deep swigs of my freshly poured, iced beverage, I approached them with an optimistic attitude.
Help was "in the room."
One of the men, seated at the table, carried an oxygen tank by his side. If anyone had a legitimate excuse for waving off this stranded traveler, it would be these two.
But then, THIS was Saco, Montana. Once again, I was given a taste of her hometown hospitality.
A short explanation of my dilemma and some trouble-shooting motorcycle conversation quickly ensued. It was obvious that BOTH men had a familiarity with motorcycles, mechanics, and machinery in general.
Without prompting, a phone call was made on my behalf.
As the phone conversation ended, once again, I was given the same encouragement Richie had earlier spoken:
Son, I'd recommend that you drive up the road a few miles to Saco Dehy. Tom is there and is waiting for you.
What would YOU have done had you been in my riding boots?
I heeded their sage advice.
Polishing off my beverage and paying my bill, I said "goodbye" to the friendly staff, saddled up, and SLOWLY made way, back up the road.
My destination? Saco Dehy.
To read the rest of this story, visit Good People: Part 2, Part 3, and Part 4.