Day 5 began in the usually way: I woke up at 4:55 AM. For the record, I have always enjoyed waking up early. The world feels just a little more peaceful when the sun is just rising and the day is getting underway.
Add in the component of cruising along on a long-distant summer road trip and that makes for one tantalizing breakfast call. Lucky me. I am on such a road trip.
Smiles will be in abundance today. Or at least, that is my hope.
My first conversation of the morning began with a fellow biker: Steve Johnson. Steve is 71 years young. He rides an old but dependable Honda Goldwing. On this morning, he is setting his sights on a Goldwing Reunion with motorcyclists from across the globe. But before he hits the road, we take time to share a few stories, our contact information, and well wishes. Riding on two wheels is indeed a special kind of family.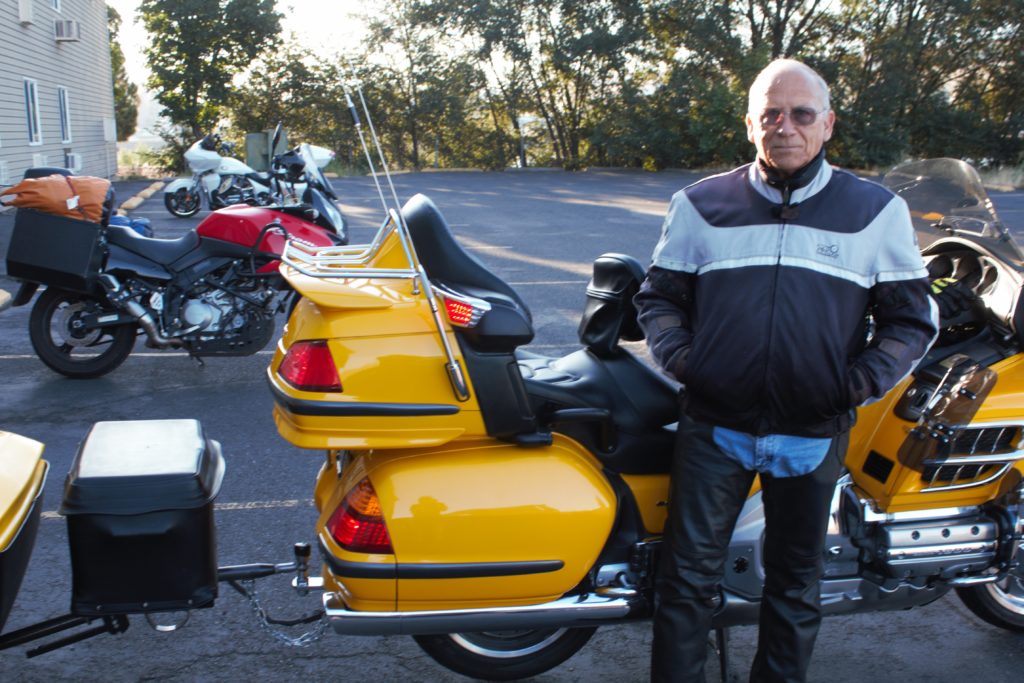 Lewiston, Idaho. My first stop of the morning is at Guy's Outdoor Equipment. They open at 9 AM and I am there a few minutes early.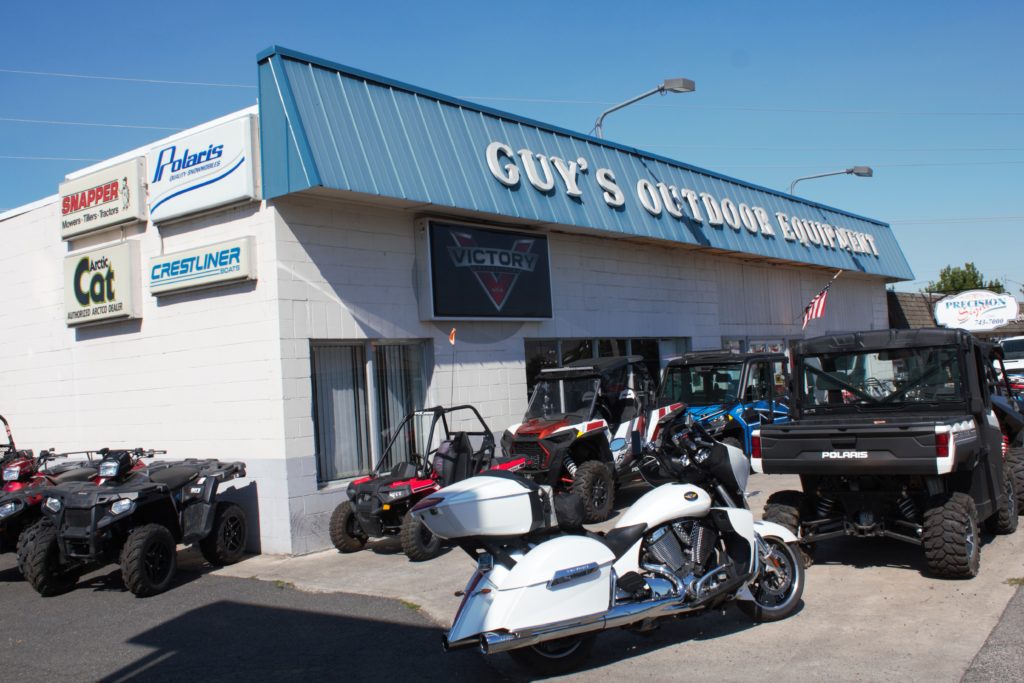 Arranged the day before, while at the Polaris dealership in Hamilton, Patrick (the parts guru from Guy's) had assured me he had some brake pads for my bike and would do what he could to get my bike repaired and me back rolling onward safely.
The day before, one of my brake pads had fallen out (obviously a mechanical snafu on MY part) and I had driven 260 miles to find a replacement. Guy's was the place to be.
Donnie immediately greeted me as I rolled into the lot (pictured below on the right). A biker himself and clearly a man with passion for people, his easy going smile and out-going banter helped dissolve the tension of the previous day.
Apparently I had JUST missed the 2019 Victory NW Regionals hosted by the NW Hells Canyon Victory Riders LC103. From the sounds of things, it was a great time. Maybe next year.
Patrick was equally as friendly (pictured on the left). A transplant from the great frontier of Alaska, Patrick expressed how living in Lewiston was much more to his liking.
Patrick's friendly personality and laidback style (check out how he wears his hat) put me at ease. I knew that I was in good hands and that I'd be back on the road in a heartbeat.
Having grown up the first twenty-seven years of my life in the Midwest, there is a familiarity to the hospitality I find so palatable. This hospitality can be found in a variety of outdoor arenas. For those of you who camp, boat, hunt, do travel baseball, soccer, or even participate in competition BBQ, in a word what you so often experience among those who share your outdoor passion is "family." At that is what I found at Guy's: family.
I was 2 for 2 so far and it was only 9 AM.
The maestro of this little band was Dan (center). His role on the "Guy" team was to wrench.
Like a conductor of a majestic symphony, Dan was fluid in his actions, humble in his ability, and skilled at what he did. He even kept this entire concert flowing seamlessly with tales of motorcycle riding on the icy, snowy roads of Idaho; all the while keeping his eye on the ultimate goal: replacing the necessary parts to enable me to get back on the road safely.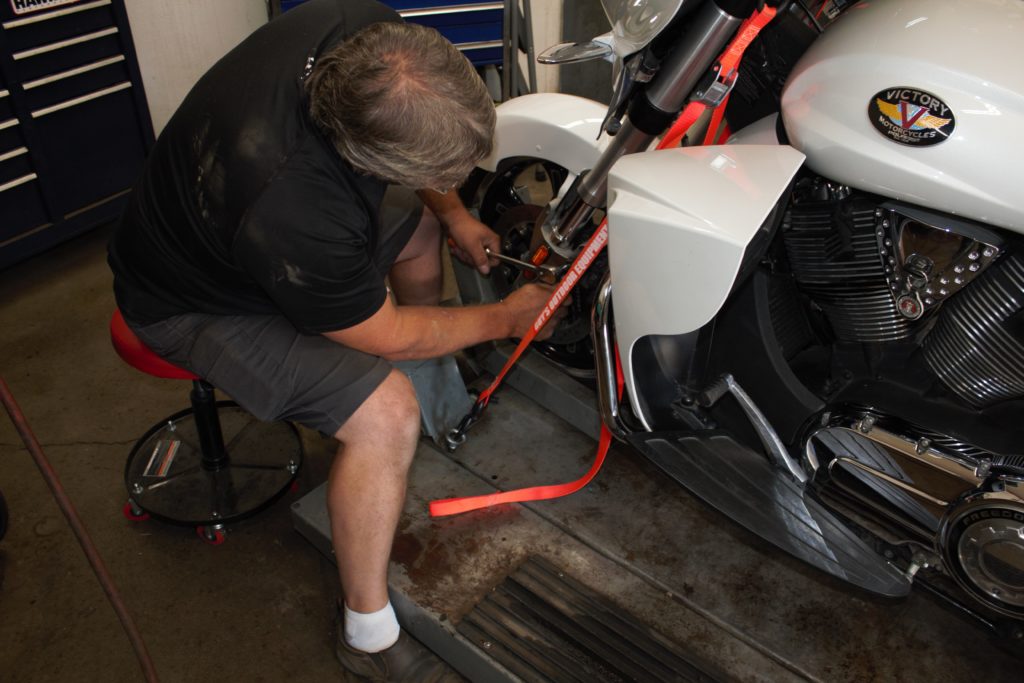 Thanks again boys for your teamwork and generosity. You did Guy's AND Idaho proud. Well done!
Rattlesnake Canyon
What a blast! For all you motorcycle enthusiasts, Highways 129 and 3 are a MUST. Crossing the State line from Washington into Oregon, these roads will require ALL of your focus and skill to keep the bike rolling along and not sprawling headlong into the guard rail or over the cliff edge.
Put them on your bucket list. THIS was some FUN riding.
Washington State is glorious too.
As I finished out my day, in route to Seattle for an appointment with my wife Robin who was flying in for the weekend (to celebrate our 33rd wedding anniversary) God brought me through more of His glorious, painted canvas. I will leave you with these.