Motorcycling is a social sport.
Riding a speeding bullet at ANY time, for ANY occasion is definitely thrilling. It is ten-times better when you have a buddy to share that joy with.
Meet Mike White
Mike White is NOT your average guy. One LOOK at him informs you that he has lived life at full speed; the dangerous way. His nose is a smidge crooked; evidence of multiple physical altercations. His hands always hang freely by his side; indicating an alert readiness for action at the blink of an eye. The tattoos on his arms and hitch in his walk express his flirtation with the dark side. And the single earring he wears, showcases someone who is confident in his manhood.
Make no mistake, you decide to tango with this dude, it will involve one hell of a beating. You might win the scrap; but it isn't going to be pretty.
Can you think of ANYONE who could possibly be a BETTER motorcycle buddy than Mike White?
Me neither.
Mike White makes EVERYTHING more fun. This is ESPECIALLY true with motorcycle riding. When our Helmet Sena headsets are dialed in and tuned to the same Bluetooth frequency, our laughter is quick and conversations easy.
Have you ever experienced the joy of feeling the wind in your face as you ride down some desolate, single lane road in the middle of California's curvy, hilly, wine country? Well, when you add in the guttural glee of Mike's deep, smokers voice rasping through the stereo speakers in your helmet, your roadtrip will come alive. This combination will cause your cheeks to hurt from smiling so big!
An Instant Bond
It seems like only yesterday when I first met Mike White. In reality, it was eighteen years ago. I still remember one of our earliest conversations when Mike said,
Decker, you'd be surprised at how EASY you can remove a guys EAR from his head. It's JUST cartilage.
Who KNOWS stuff like this?
Mike White does.
And with this authentic, non-braggadocious comment, our friendship was INSTANTLY forged.
Meet Grace
Mike White has a mechanical girl friend. Like many motorcyclists I know, Mike TALKS to his bike. Not only that, Mike has also given his Victory Kingpin motorcycle a name. He calls her: Grace. It is a fitting name.
GOD's grace is the primary theme of Mike's life. God's grace saved him from a life of crime. God's grace redeemed him from a history of running. God's grace transformed Mike from being a violent, underworld shyster into a loving Dad, husband, Grandpa, and friend you can count on.
Every time we ride our bikes together, we marvel and celebrate God's goodness upon both of our lives.
God's grace is something we ALL need; wouldn't you agree?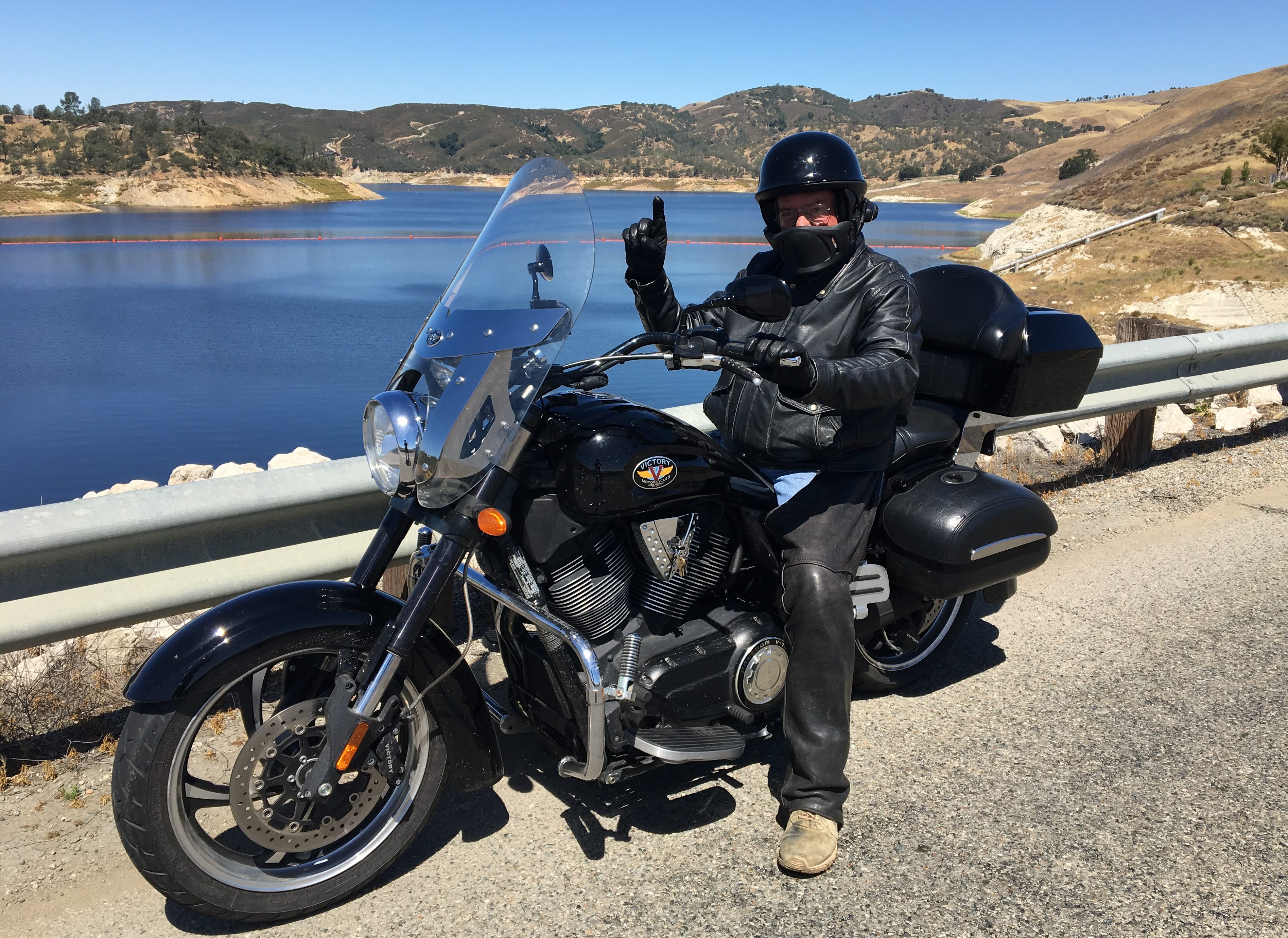 One Simple Rule
Mike White is not much of a rule keeper. That being said, when it comes to his bike Grace, he has ONE:
No dirt.
Grace is NOT to be ridden on gravel roads. Grace is NOT to be parked on grass lots. Grace's tire are NEVER EVER allowed to touch sand.
Grace does NOT do dirt. Period.
It was a beautiful day for riding. Miles earlier, as we rolled through some lush farmland, Mike kicked up a swarm of bees which pummeled me like popping popcorn in a hot kettle. He laughed hysterically as I color-commentated the drama unfolding behind him. Little did he know, payback was just around the corner.
Lost in the beauty of the passing landscape and our deep conversation, Mike somehow dropped his focus. Before he could correct his recognized error, Mike suddenly found himself AND Grace . . .
Rolling OFF the blacktop and INTO a ditch that was brimming with tall grass.
I couldn't help myself.
I laughed, and laughed, and laughed. While Mike cried, and cried, and cried.
It was a special, memorable moment. For BOTH of us.
Sorry Grace.
Mike White, like most cyclists, is a man who loves to eat. He especially has an appetite for greasy dives and local diners.
Seriously though, doesn't everyone?
Don't cry for me. Live!
Finally, Mike White loves Jesus. We both do. Mike's favorite Bible verse is Romans 5:8. It reads this way:
God demonstrates His own love toward us, in that while we were yet sinners, Christ died for us. (New American Standard Bible)
Mike White took a road trip this past Sunday night; without me. His destination: Heaven. He upgraded black asphalt roadways for streets of gold. I wonder what riding on that is like?
The Bible promises that as a result of the work Jesus did on the cross for Mike's sins and mine, I know that one day I will be reunited with my riding buddy. And on that day, side-by-side we will lift our hands in praise to our Lord and Savior, Jesus Christ.
For now though and until that day arrives, I will ride.
I will live.
And with God's help, I will look forward to the new adventures that lie still ahead.