So my 2018 Summer Moto trip is officially underway.  I am four days into this journey and already I can feel myself starting to unwind and relax.  Twenty-five (25) hours in the saddle will do that.  I have crossed four states (California, Nevada, Oregon, Washington) and now find myself in the Canadian Province of British Columbia.  Having logged 1,242 miles has pretty much worked out all the kinks.  I am finally beginning to feel like a road warrior again.
True to form, I have met some phenomenal people.  In an earlier post One Big Family I wrote about this motorcycle reality.  Each day, it seems, I am surprised by someone.  And each "someone" usually has an interesting story to tell.
For example, meet Joe.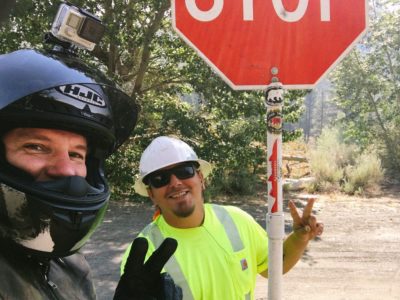 Joe's official title is a Traffic Control Technician.  Most people simply call him a Flagger.  Flaggers are those friendly, Road Construction folks who direct traffic.  You can find them littered all across the North American landscape. 
Flaggers are easy to spot.  They are the one's who are standing in the middle of the road with a pole and sign in their hand.  One side of their metal placard reads: STOP.  One side reads SLOW.  NEITHER are words you want to read as a motorcycle rider.  As a moto rider, the words you want to read are Go, Go, GO!
Joe is what one might call a PRO in this business.  He has been doing this Flagger gig for five (5) years.  He loves it.  As a kid from Vasilia, CA which is located in the agricultural heart of central California, the outdoor life is for him. 
Being a Flagger does have its drawbacks though: angry tourists, extreme weather conditions, and long hours on the feet.  Although he's been doing this job for nearly half a decade, he is still "low man on the totem pole."  Should he get a promotion, it would be into the air conditioned "pace" car.  He doesn't see that happening anytime soon though.  The Construction Company Owner's son has that gig.  It could be a LONG wait for Joe.  He's not worried though.  As you can tell from this picture, he is feeling pretty good about life.
Meet Amy.
Amy's story is a familiar one that I hear often on my moto trips.  She just moved into the area (four months ago) with the desire to experience a fresh start.  Who doesn't want that?  We ALL need a RE-SET every once in awhile, agree?
Amy was my restaurant server.  When I asked my hotel concierge for a dinner recommendation, I was pointed to the local bowling alley.  The review I was given was spot on.  The salmon meal that Amy served me came with fresh asparagus, rice pilaf, and a spinach salad.  Amy even went the extra mile and provided me with an extra large helping of Asparagus.  It was the perfect meal after a long day in 112 degree riding weather.  Delicious.  
Amy, like most people, worked hard that night; serving other patrons gathered in the bowling alley diner.  Her story was one I will keep between us.  I wish her and her newly rescued Collie-Shepherd dog only the best.  She deserves a new beginning.  I hope she finds it.
Meet LeGrand.  
Mr. LeGrand LeBaron is a Gold Prospector.  He is 72 years old and fit as a fiddle.  I sure hope that I am as spry as him when I hit that golden age.  LeGrand's 30 years of gold panning has kept him both nimble and full of stories. 
LeGrand is an Old School prospector with an educated, tech-enhanced approach.  His panning strategy is quite sophisticated for a "recreational" Panner.   At the moment, LeGrand is preparing to tackle a virgin spot which he has been watching for almost 15 years.  It is located along the Columbia River where millions of dollars worth of Gold have already been harvested.  This spot, however, has remained untouched; and will require some specialized diving on his part to uncover those golden gems. 
Without question, LeGrand knows his craft.  His mining terminology was spot on.  And for the duration of our 45 minute conversation, I was mesmerized as he invited me into his adventurous world.      
Thank you Joe, Amy, and LeGrand.  I wish you ALL God's very best in your days ahead.